EEC-Anglo英语村是一项独特的计划,学生可以远离日常生活,可以专注于与来自世界各地的英语志愿者一起进行口语练习。在7天内,学生不会学习语言,而是会在现实生活中说出来。白天,他们与10多个不同的母语人士进行对话,他们渴望帮助他们提高英语水平,并亲自了解他们。学生每小时都会更换口语合作伙伴,这使课程的动态非常活跃和生动。最后,除了可以显着提高他们的演讲技巧和自信心外,他们还与母语为母语的人建立了终身友谊。
在计划期间,英语志愿者和学生们甚至将他们的音乐融为一体。除英语外,所有其他语言均被禁止。完全的英语沉浸式之旅从早上开始供应早餐,直到深夜!结果,学生甚至梦见了英语!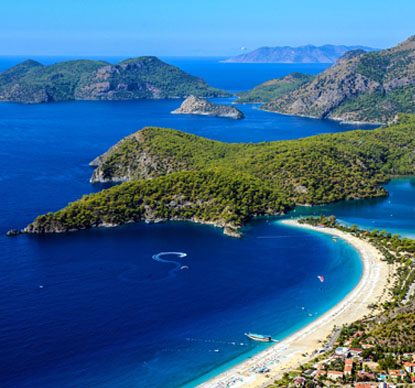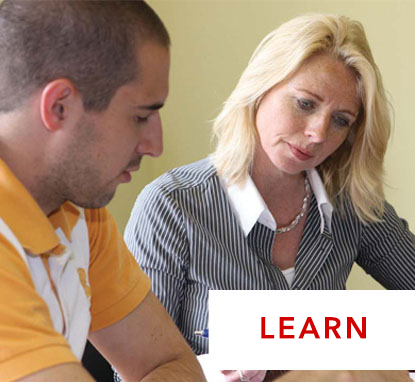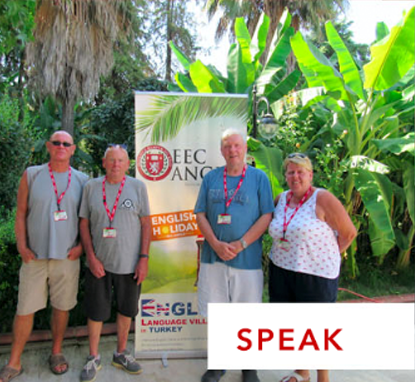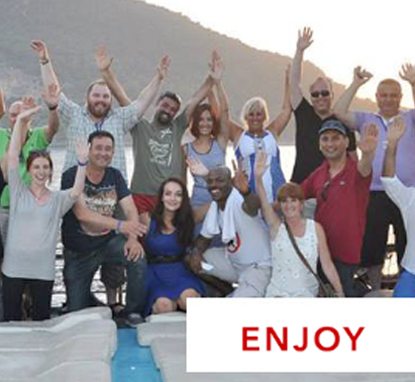 IN A WEEK THAN YOU WOULD IN A MONTH ABROAD!
Totally-immersive programme allows students to overcome their fear of speaking English, and make enourmous progress in terms of fluency and confidence in the language of English.
7-DAY ENGLISH-SPEAKING HOLIDAY WITH NATIVE VOLUNTEERS
NO LESSONS, JUST PRACTICE!
16 HOURS A DAY CONTACT WITH ENGLISH SPEAKING VOLUNTEERS
3 FANTASTIC EXCURSIONS AND BOAT-TRIPS WITH NATIVE SPEAKERS
BREAKFAST, LUNCH AND DINNER
FUN EXCURSIONS AND BOAT-TRIPS
You've tried them all, now we have to "talk" !
Courses that create "relaxed" and "confident" global communicators
Lose the fear of speaking English in our ENGLISH VILLAGE!
WHAT IS ENGLISH VILLAGE PROGRAMME?
Students have an English-speaking-holiday for 7-Days with native volunteers

Students have 80 hours of contact with English - NO LESSONS, JUST PRACTICE!

Isolated from their daily lives, focusing exclusively on English practice

A day starts at 08.00 with breakfast and runs until midnight

Students and English volunteers have their meals together

Single room luxurious accommodation is provided

Students change English-speaking partners every hour

Boat-trips, excursions and fun activities are included
WHERE IS IT? HOW LONG IS IT? HOW MUCH IS IT?
English Village programme is held at FETHIYE and BODRUM every month

Students stay in single room accommodation at a 3-star hotel

Programme lasts 7 days

Breakfast, lunch and dinner included

3 full-day excursions including boat-trips and sightseeings

Airport transfers are included in the price

All-inclusive package costs 890 USD
Please click here for English Camp Photo Gallery >>>
完全沉浸式课程可让学生克服对讲英语的恐惧,并在英语的流利度和自信心方面取得巨大进步。
7天的英语节假日与本地志愿者
没有教训,只是实践!
每天16小时与英语演讲志愿者联系
3种自然语言的奇妙旅行和划船
早餐午餐和晚餐
有趣的短途旅行和游船
您已经尝试了所有这些,现在我们必须``交谈''!
创建"放松"和"自信"的全球传播者的课程
不用害怕在我们的英语村讲英语!
什么是英语村计划?
学生与当地志愿者一起进行为期7天的英语口语假期
学生有80个小时的英语交流-没有经验,只是实践!
与日常生活隔离,只专注于英语练习
一天从08.00开始,含早餐,一直持续到午夜
学生和英语志愿者一起吃饭
提供单人间豪华住宿
学生每小时更换英语伙伴
包括乘船游览,短途旅行和有趣的活动
它在哪里? 多久了? 多少钱?
每月在FETHIYE和BODRUM举行英语村计划
学生入住三星级酒店的单人间
计划持续7天
含早餐,午餐和晚餐
3个全日游,包括乘船游览和观光
房价已包含机场接送服务
全包套餐价格为890美元
7-DAY LONG ENGLISH TALKATHON!
NO LESSONS, JUST PRACTICE WITH ENGLISH-SPEAKERS!
All-Inclusive residential English course allows you to live with native-speakers and improve your conversational skills in the shortest possible period of time!

- Full Day Training - Single Room Accommodation - Only American / British Trainers - Social Activities and Trips - Attendance Certificate
Total immersion in English!

TYPICAL PROGRAM

Courses Open Every Month! 7 Full Days of Practice and Fun


– Only Native English Speakers

– All-day Conversation

– Single Room Accommodation and Meals

– Social Activities and Trips

– Certificate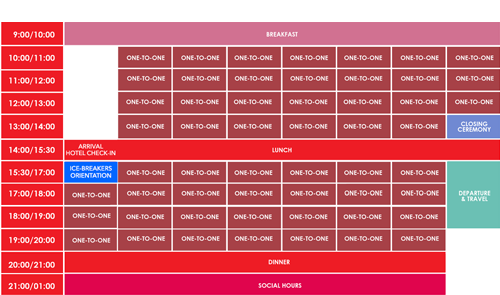 NO LESSONS, JUST PRACTICE!
EEC-Anglo combines intensive language training and living in the same location of your teacher.

- Designed Specifically for Speaking - Combination of Training and Living
- Social English Even Outside the Classroom
Outside lessons there are many opportunities for you to practise and refine your English - over breakfast, lunch and dinner, during tea and coffee breaks, and when doing activities each week with your teacher or their family and friends.
EEC-Anglo将强化的语言培训与生活在您老师的同一位置相结合。
-专为口语而设计
-培训与生活相结合
-甚至在教室外的社交英语
在课外活动中,您有很多机会练习和完善英语-早餐,午餐和晚餐,茶和咖啡休息时间以及每周与您的老师或他们的家人和朋友进行活动时。

EEC-Anglo provides a complete English-speaking environment for the adult learners of English. With our 4 superb locations across Turkey, the students from aroudn the world live and learn English with their American and British teachers all day long, from mealtimes to boat trips!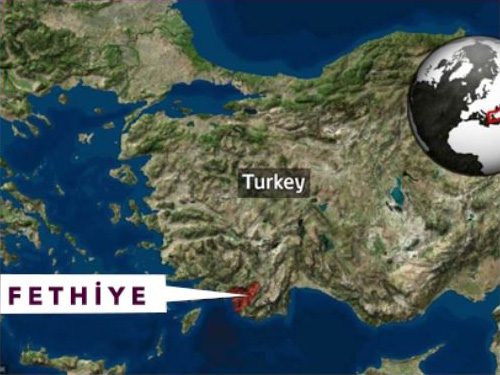 EEC-Anglo为成年英语学习者提供了一个完整的英语环境。 在土耳其的4个绝佳地点,来自世界各地的学生全天候与他们的美国和英国老师一起学习英语,从进餐到乘船游览!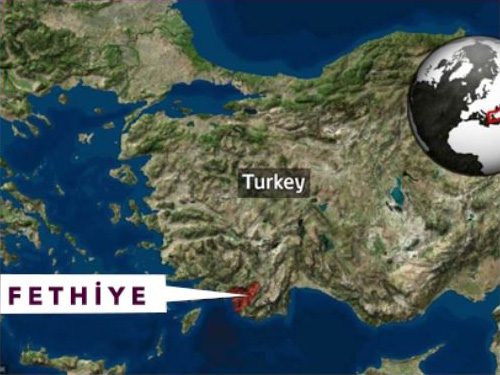 4 SUPERB LOCATIONS TO LEARN ENGLISH!
İZMİT GÖLCÜK
ALL YEAR LONG
ONE-TO-ONE & GROUP COURSES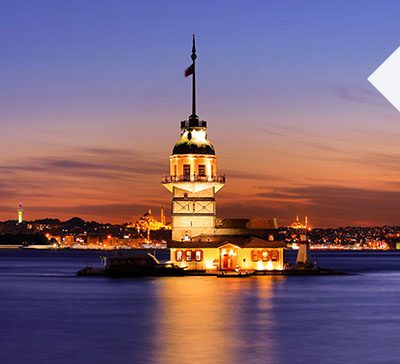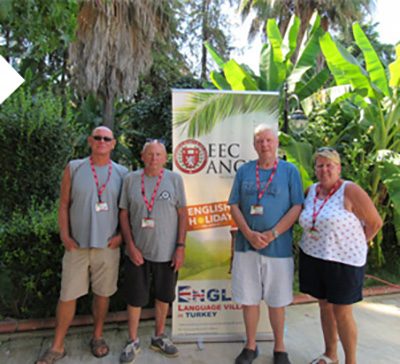 İSTANBUL
ALL YEAR LONG
ONE-TO-ONE & GROUP COURSES
BODRUM
ALL YEAR LONG
ONE-TO-ONE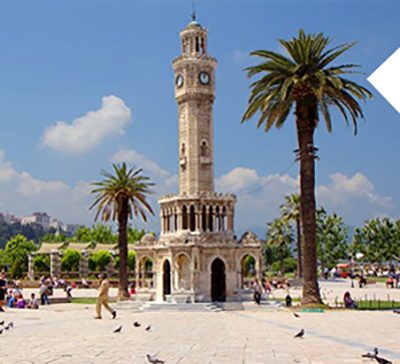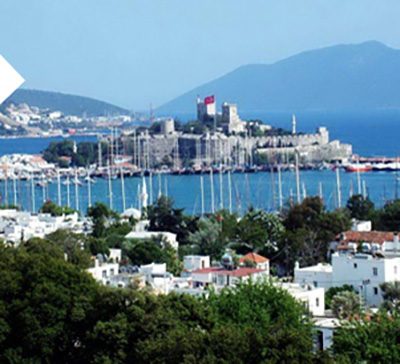 İZMİR
ALL YEAR LONG
ONE-TO-ONE
SIGN UP FOR OUR NEWSLETTER!
and we will keep you posted with our promotions and offers
İZMİT GÖLCÜK
ALL YEAR LONG
ONE-TO-ONE & GROUP COURSES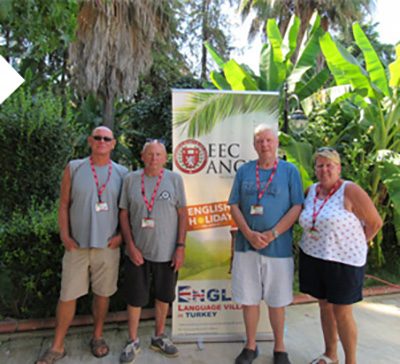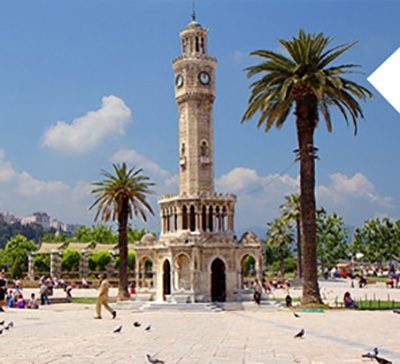 İZMİR
ALL YEAR LONG ONE-TO-ONE
BODRUM
ALL YEAR LONG ONE-TO-ONE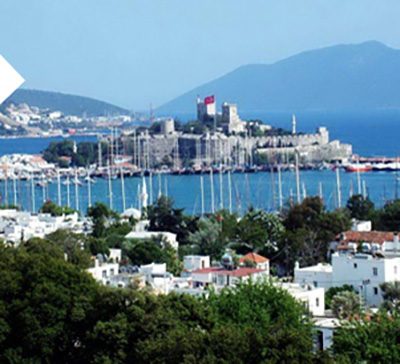 İSTANBUL
ALL YEAR LONG
ONE-TO-ONE & GROUP COURSES